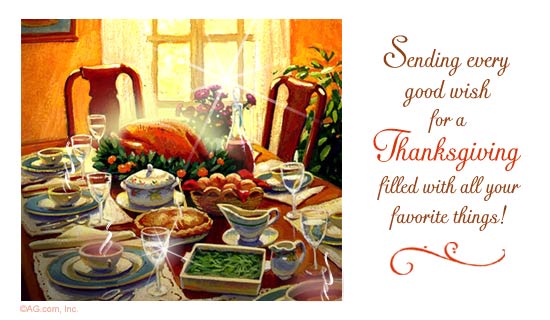 The funny thing about Thanksgiving, or any huge meal, is that you spend 12 hours shopping for it and then chopping and cooking and braising and blanching. Then it takes 20 minutes to eat it and everybody sort of sits around in a food coma, and then it takes four hours to clean it up. ~ Ted Allen
Which is pretty much exactly what happened at our place today. The food was delicious, the company was excellent and my family was their usual boisterous, loud and gregarious selves. It was so much fun. Right now, everyone has crashed into a turkey induced coma, and I'm just taking time out to list all the wonderful things that I'm thankful for this year.
My Family: For being indulgent, crazy, all up in my business, supportive and yet totally loving. For them recognizing that I needed to find my own way this year, and not putting too much pressure or saying 'I told you so' when things didn't work out the way they were supposed to. For them picking up the pieces, being patient and helping me come up with Plan B and C and D and E.
My Friends: For understanding my need to move to parts unknown and for staying with me through it. For helping me pack, and nagging me to unpack. For keeping in touch even though we all now live further away and for coming to visit when finances allowed. For allowing me to make new friends, not flipping out when my socialite status threatened our relationships, and for calling me out when necessary. For all the phone marathon sessions and the antics we got into this year. For helping get over my ex, and not letting me run into the arms of the other ex. For shaking me when I needed to be shaken, and hugging me when I needed to be hugged. For being there.
My New Boss: For giving me something constructive to do that made me feel like I wasn't pissing away the whole year, for encouraging me when I was down, for working with my ideas (even the lame ones), for creating a great forum for me to fully explore my talents. For making me Deputy Editor even though I had no idea what to do! For being a great friend, a staunch supporter and an avid reader.
My Fellow Bloggers: For teaching me the basics of the blogosphere, for showing me what all the HTML crap was all about, for keeping me sane, for putting me on their blogrolls, for reading my rants and my blogs, for letting me peek into their lives, for leaving critiques and comments, for sending their friends to my site, and welcoming me into the Blogosphere with open arms.
My Readers: For those who have read everything I've written and inspire me to write more, who remind me that I'm actually a pretty decent writer, those that bring me head back to earth, and those who hype up my mad skillz. For those that harass me regularly to finish my works in progress and those that pass my work along to others.
I'm grateful for you all.